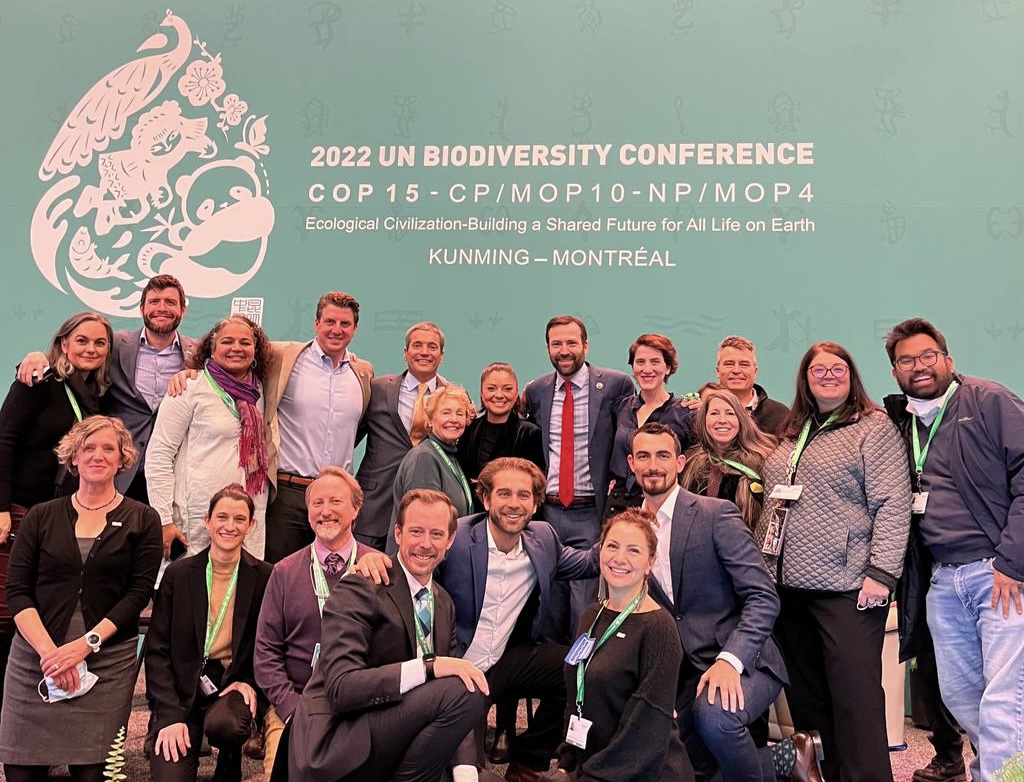 Global, Subnational, Local
Launching the California Global Biodiversity Working Group
How do we level-up action and ambition for the future of biodiversity? The UN Convention on Biological Diversity (CBD) is the world's only biodiversity treaty. Every nation is party to the treaty except for the United States. This creates a global leadership gap that impacts people everywhere. We can address this gap by engaging subnational governments with the CBD in order to increase pressure on national governments to act decisively, lead for innovative partnerships, and facilitate reciprocal local to global exchanges for knowledge and policy making. We must also increase public awareness of and participation in the CBD.
To achieve this, PAJE founder Rosalind Helfand launched a campaign for the state of California to become an official CBD observer in fall 2019. She reached out for the support of the CBD Secretariat and representatives from the Quebec government, another subnational government that engages with the CBD. In January 2020, California State Assemblymember Laura Friedman championed this effort and sent a letter to California Natural Resources Secretary Wade Crowfoot to request that he take action. In winter and spring 2020, Rosalind led an effort to unite over 30 environmental nonprofits and civic leaders in a coalition backing California's participation in the CBD. The coalition included organizations from across California that work at the local, state, national, and global levels. After several months of meetings to explore California's participation that included the CNRA, Assemblymember Friedman's office, Regions 4, the Quebec government, and the California League of Conservation Voters, California became an observer to the CBD in December 2020. In March 2021, Rosalind collaborated with Assemblymember Friedman, the California League of Conservation Voters and the CNRA to host two stakeholder workshops with over 20 organizations participating. These were the first workshops to explore local stakeholder input regarding how California should contribute to the development of the Convention on Biological Diversity's Post-2020 Global Biodiversity Framework. The California Native Plant Society and Turtle Island Restoration Network joined the lead team and the California Global Biodiversity Working Group was formed. More organizations joined in the lead up to the UN Biodiversity Conference or COP 15 in Montreal that took place in December 2022. An "extended delegation" of over 50 Californians attended COP15 with joint messaging and coordination. California became a leading voice for subnational government engagement in fulfilling the goals and targets of the Global Biodiversity Framework. The Working Group is now collaborating to launch its next steps, including tracking policies across the state in regards to their Global Biodiversity Framework alignment.
Coalition participants include: Active San Gabriel Valley, Advocates for the Environment, Amargosa Conservancy, Arroyos & Foothills Conservancy, Ban Single Use Plastics, California Chaparral Institute, California League of Conservation Voters, California Native Plant Society, Center for Biological Diversity, Citizens for Los Angeles Wildlife, City of Los Angeles, City of San Francisco, Climate Resolve, Cool World Institute, Defenders of Wildlife, Environmental Protection Information Center, Environmental Studies Department of Antioch, Freshwater Life, Friends of Griffith Park, Friends of the LA River, Glendale Environmental Coalition, Heal the Bay, IUCN, Kiss the Ground, Natural Resources Defense Council, NELA Climate Collective, Palm Springs Wildlife Advocates, Point Blue, Rainforest Action Network, Sierra Club California, Sunrise Movement LA Youth, Surfrider Foundation, Turtle Island Restoration Network, UCLA Sustainable LA Grand Challenge, Ventana Wilderness Alliance, Volunteers Organized in Conservation of the Environment, Young Entertainment Activists.
Learn more in Rosalind's op-ed on California's Opportunity to Shape Worldwide Biodiversity Policy that  she coauthored for The Revelator with Assemblymember Laura Friedman and Mike Young of the California League of Conservation Voters.